Outro: The Death of A Man
I prefer the suicides that are used to establish oneself.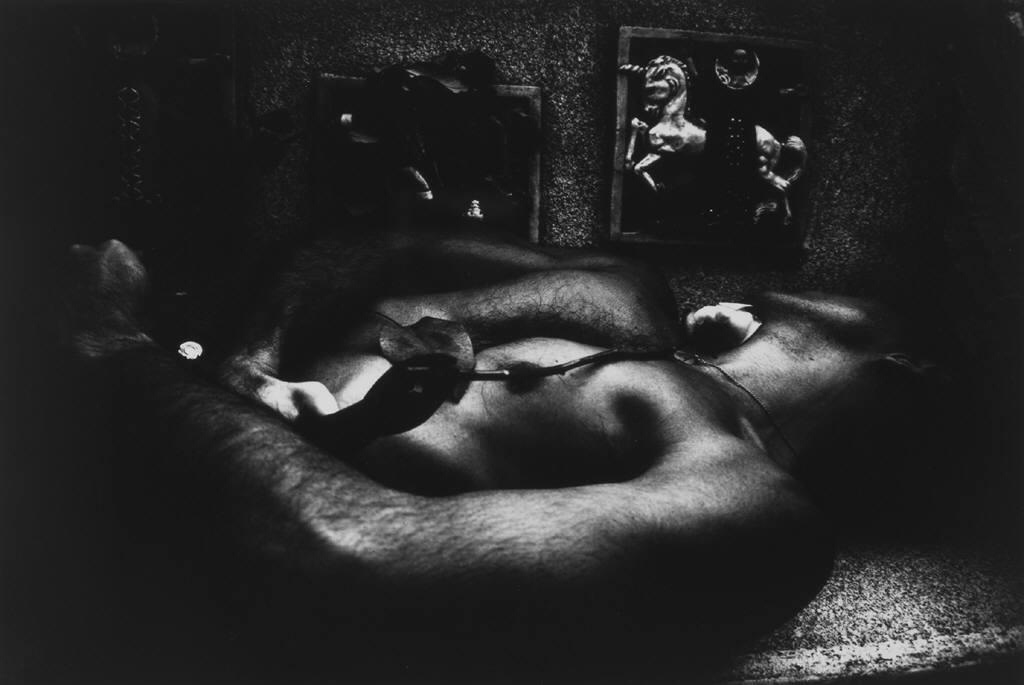 It is Labor Day, the unofficial end of summer in the United States, and it's time for me to end my Cruel Summer. Thank you to everyone who read it and followed me on this absolutely bizarre journey into Mishima hell. Over the course of the summer, I read two biographies, five novels, one treatise and countless articles, discussions, etc about this man. I've learned about people who loved him, like David Bowie and his friend Tennessee Williams, watched countless videos of him giving interviews in his lilting, sensual English, and scoured the internet for photographs of him.
I am not sure I learned anything from him, or gained anything except for an increasingly fanatical attitude towards fitness, which I was almost there on my own. I had countless nights of psychotic dreams, filled with blood and flames, which, yes, affected by the reality outside, but was increasingly compounded by the obsession and cruelty I read day in and day out for three months. There are things I love about him, his reality fetishism, his cold, mirthless sense of humor, his way of seeing. The things I hate, his unrelenting rage that is so hot and alive it scares me. I feel like we would have been friends, as strange as it sounds, although I think we would have violently different ideas about work. He produced so much work, and constantly, that even if I continued to read a couple Mishima books a year, it would still take me years to make a serious dent. I haven't even started the series that's supposed to be his best work, out of concern of my own exhaustion.
I love that we love the same things, and I loved finding Nabokovian touches in his work, it's always a joy to find that someone you love has the same feelings about what is beautiful in the written word.
And, of course, I love that he loves his friends. He was constantly hanging out with other authors, talking about their wok, editing their work. One of my favourite photos of Mishima is this tiny one, hanging out with his friend Edogawa Ranpo, the mystery / horror novelist.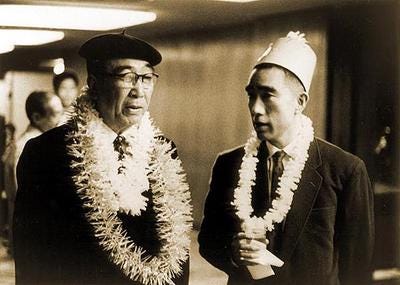 His love and admiration for Kawabata was well known, and Kawabata was so affected by his friend's death that he committed suicide a little over a year after Mishima.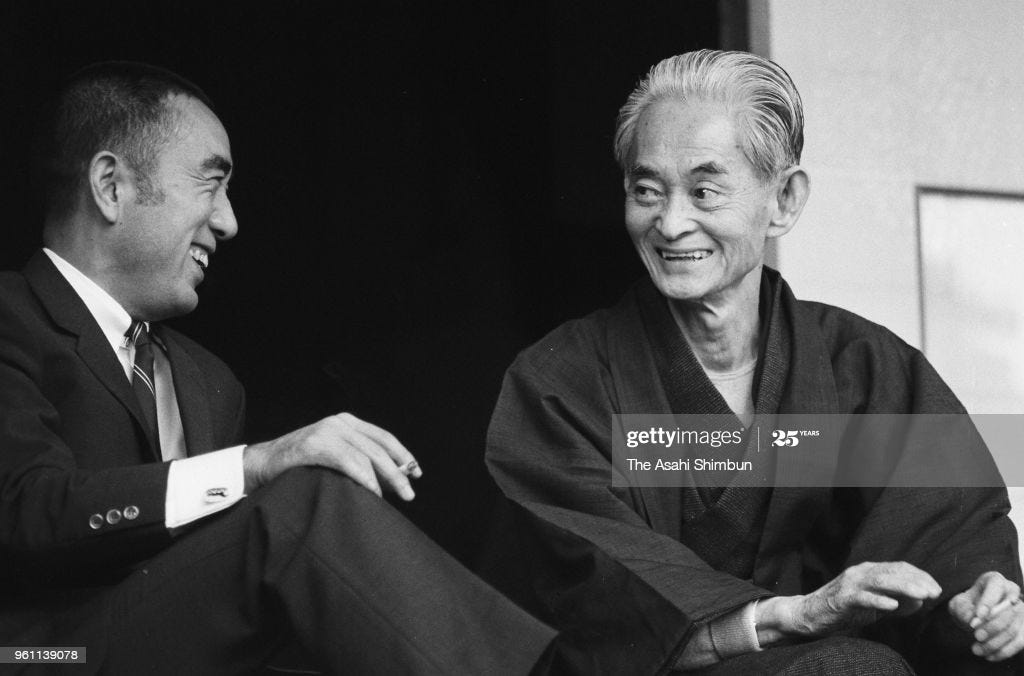 Mishima and Kawabata at Kawabata's home in Tokyo after Kawabata won the Nobel Prize
It's strange to say that I miss him, already. Spending so much time in someone else's head, thinking, love, violence, it feels like I'm moving away, leaving him behind, a break up with a particularly smart, handsome, fit summer boyfriend for my new job in the big city.
I will be reading about Mishima, or reading Mishima for the rest of my life. I do not feel that he has affected my own writing, but he has definitely changed my view of violence, my view of pacifism. Which I am sure will appear in my writing one day, but hasn't yet.
It is 2pm in the afternoon, and as I write these last words, I am actually crying. I really, really, really, really loved him, even if just for the summer. It is the 50th anniversary of his death this fall. Rizzoli is issuing Death of a Man, in honor of this anniversary, the haunting, erotic photographic love letters that were taken of Mishima as masculine archetypes — sailors, warriors, fishermen — and their violent, catastrophic deaths. I have already ordered my copy.
J. Amussen
Atlanta
Quarantine 193
Riot 105